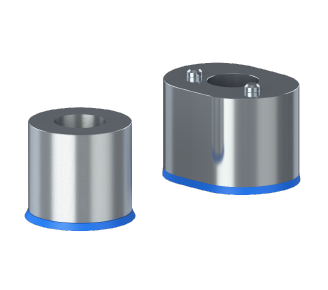 Bearing house accessories
NGI can offer certified hygienic spacers with blue NBR rubber seals. The NBR rubber seal blocks out water and bacteria and prevents a non-hygienic metal-to-metal assembly.
A high focus on hygienic design ensures that the bearing house can be cleaned behind and around the shaft and furthermore, NGI offers hygienic spacers to increase the distance to machines and equipment to over an inch as recommended by USDA.
NGI bearing houses are USDA certifed.
When USDA laws are to be followed use the hygienic spacers from NGI to secure the approved distance to the support surface. For hygienic components from NGI which are already 3-A RPSCQC approved, USDA has mostly been about protection against visible threads and 1" spacers for bearing housings.
To attach NGI hygienic bearing houses to the support surface always use NGI certified hygienic bolts or nuts to secure the overall hygienic design.
In this section, you can also find spare parts such as covers and sealings for our bearing houses.